To reach the Aeolian Islands, and in particular the embarkation of Lipari, the possibilities are different:
By plane: booking a flight to Catania or Palermo (tickets can be purchased on the internet with the main low-cost airlines).
Once in Catania, on board a shuttle bus you can reach the Port of Milazzo or Messina. For Milazzo you have several options of bus or private shuttle, as www.eoliebooking.com/navetta/ and https://giuntabus.com/milazzo-aeroporto-catania/ . For Messina you take the bus that runs 5 times a day (www.saisautolinee.it).
From Milazzo and Messina you reach Lipari by hydrofoil , contact www.libertylines.it.
Otherwise in Palermo airport take the bus that leaves every half hour (www.prestiaecomande.it) and takes you directly to the Port of Palermo where you will board the hydrofoil that reaches Lipari in about 4 hours (www.libertylines.it).
By train: from Rome you can take a night train to Milazzo ( www.trenitalia.com/ ).
From 8 July 2021 a connection was introduced with Italo that leads to Sapri (province of Salerno) and then byhydrofoil to Lipari ( http://www.italotreno.it/it/destinazioni-orari/messina-e-isole-eolie ). Tickets train+hydrofoil can be purchased directly on Italo.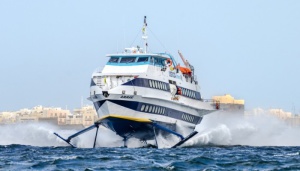 By hydrofoil: from Naples you can take the hydrofoil that leaves every day at 14.30, directly to Lipari, from the Port of mergellina (NA) with the Company SNAV (www.snav.it).  In 5 hours of navigation you will arrive at your destination.
Alternatively you can choose a night ferry departing from Naples at 20.00 and arriving in Lipari the following morning (www.carontetourist.it/it/siremar).

Another option: from Salerno you can take the Hydrofoil Alicost that reaches the Aeolian Islands in 4 hours (https://www.alicost.it/aliscafi-per-isole-eolie/ ).
Additional option: get to Reggio Calabria airport, take a taxi to the port (10 minute ride) and then hydrofoil to Lipari with Liberty Lines (www.libertylines.it).
Or take hydrofoil to Milazzo or Messina (www.libertylines.it) and then train/hydrofoil to Vibo Valentia (www.trenitalia.com/ or  www.traghettilines.it/it/isole-eolie/traghetti-reggio-calabria-lipari.aspx  )
Once landed in Lipari you can say you are finally on vacation!
To reach us you only need a few minutes… you will find us at the floating dock "La Buona Fonda", the first on the right just disembarked.
The boarding time is at 19.00 and our staff will be happy to welcome you on board. If you arrive earlier you can wait at the sofas at the entrance or, leaving your luggage in storage at the jetty, venture to discover the old town of Lipari.