LIFE ON BOARD SOUTH SARDINIA
Some tips for your week of sailing cruise aboard Ronik:
MEALS: during the week Ronik's kitchen will be at your disposal for breakfasts, lunches and dinners; except for the first and last evening in port and another evening when we will get to know the local cuisine in some local trattoria. Aboard Ronik, you will find the galley already made and stowed throughout the week. In case of special needs, we ask you to inform us at the time of booking.
CLOTHING: the sailing holiday requires very little in terms of clothing to use. Most of the time you spend it on board or in the water for a bath and we are almost always barefoot. Shorts, t-shirts or tank tops, swimsuit becomes a habit during the day. Get hats, sunglasses and sunscreens to protect yourself and avoid sunburn and bad inconveniences that could ruin your holiday. A pair of long trousers and a shirt with long sleeves for those who want to shelter from the sun, or for an evening on board slightly refreshed.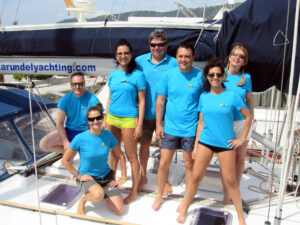 For evenings in the bay everyone will choose the most comfortable and practical way to feel comfortable. A light windproof jacket and a sweatshirt always in your bag. For the ladies a summer dress and for the gentlemen shirt and pants, for the evenings on the ground. A pair of shoes comfortable to use on the ground, flip-flops or similar for the beaches, ladies will certainly not prevent you to bring a pair of shoes with heels, always for the descents to the ground. Life on board takes place mainly barefoot. If you want to wear shoes on board, they must be suitable for boat, soft, with clear and clean sole, possibly new or never used on the ground.  For a more detailed list you can request it at the time of booking.
For bags to carry on board, we ask you to use soft bags, without rigid armor or structures with wheels, so that you can be comfortably stowed on board, folded, once empty of the contents.  In no way will be allowed on board trolleys or rigid suitcases.
To recharge your mobile phones, PCs and electronic devices, we recommend to bring a 12V adapter (car cigarette lighter type), on board we have 12V and USB sockets.
On board, the 220V power sockets only work when moored in Porto. In bay the hair dryer does not work!
For our Planet, low-surfactant and biodegradable soaps are welcome, which can also be used for outdoor showers.
No Smoking on board!!!
Any "exceptional" derogations for proven health reasons and subject to temporary authorisation by the Skipper.