HOW TO REACH SOUTH SARDINIA
The Southern Coast of Sardinia offers beaches, bays and ravines still wild, off the classic routes frequented by mass tourism in Sardinia.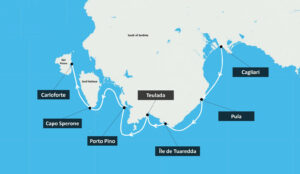 Boarding and disembarkation take place alternately at CAGLIARI and CARLOFORTE (San Pietro Island).
CAGLIARI is easily reachable by flights, even low cost, from Italy or abroad or by ferry. Ronik will be waiting for you at Portus Karalis just 10 minutes from Cagliari airport and 5 minutes from the ferry terminal.
To reach CARLOFORTE instead take flights from Italy or abroad or a ferry to Cagliari. From the airport in 5 minutes by train you reach the center of Cagliari and wait for the bus line 803 ARST (https://www.arstspa.info/803.pdf) that leads to Portovesme in 1 hour and 20 minutes.
Or you can book a private "transfer" to and from Portovesme by contacting the following taxi drivers:
Mobile phone: +39 338 8899022E-mail: dibe_taxi@yahoo.it
LE DONNE – Gerardo Le Donne
Mobile phone: +39 348 7075640
E-mail: gerardoledonne@tiscali.it
From there you take the Delcomar ferry to Carloforte with a 40-minute crossing (https://www.delcomar.it/tratte-e-orari/carloforte-portovesme ).
Ronik will be waiting for you at Marina Sifredi 100mt from the ferry landing.